Electronic Manufacturing Services
We have complete manufacturing facility including SMT line to undertake Contract Manufacturing of Printed Circuit Board (PCB) Assemblies. Expertise exists in all three types : Through-hole , SMT and Mixed Technology based PCB Assemblies.
With gerber files/ artworks or inputs, we can provide a total solution from Fabricated PCB's to component assembly and final testing. This avoids outsourcing of so many components and related items from different vendors. The PCB Assemblies are supplied in anti-static packaging wherever applicable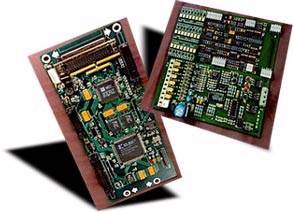 With support to many customers, we have developed expertise in following areas :
• One Stop shopping for PCB Assemblies.
• PCB fabrication from gerber files/ artworks
• Global Sourcing of Components
• Through-hole/ SMD/ Mixed type of Components Assembly (Stuffing)
• Components on both the side
• Functional Testing ( Test specifications required preferably)
• Design support for minor modifications
• Turnkey Manufacturing • Sample/Prototypes on request
• We support Small and Medium level volumes also
Ø Total EMS support , including Electronics, Mechanical (Sheet Metals / Plastics) is being rendered to some of our strategic partners in Consumer Electronics Segment.
We help our Partners ( in EMS ) for necessary Equipment & Machinery